(Nederlands) Intrede ds. Mduduzi Mahlangu
Sorry, this entry is only available in Dutch. For the sake of viewer convenience, the content is shown below in the alternative language. You may click the link to switch the active language.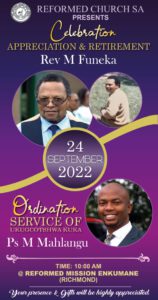 Op zaterdag 24 september is in de gemeente Idwala Lensindiso ds. Mduduzi Mahlangu  bevestigd als predikant. Hij is de opvolger van ds. Funeka die na vele jaren echt van zijn emeritaat kan genieten. We zijn dankbaar voor al het werk dat hij de afgelopen jaren heeft gedaan. De Heer heeft het werk gezegend en de gemeente is gegroeid.
Op zondag 25 september is Mduduzi voor het eerst als "eigen voorganger" voorgegaan in de dienst op de zendingspost.
Het hele weekend is er groot feest geweest.